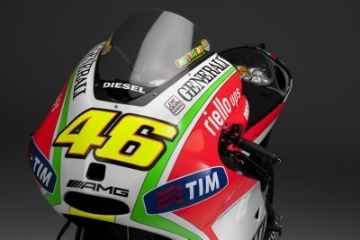 27,000 votes were cast on Crash.net and the interesting results are in:
http://www.crash.net/motogp/news/178211/1/results_valentino_rossis_best_looking_motogp_bike.html
Which do you think is Valentino Rossi's best looking 500cc/MotoGP bike?
Valentino Rossi's 2012 Ducati Desmosedici MotoGP race livery was unveiled during an online launch on Monday.
This year's Ducati is Rossi's 13th machine in the premier-class, spanning three different manufacturers and six different title sponsors.
But which, in your opinion, has been the best looking?
CLICK HERE to see a picture of each machine, in chronological order, and award a mark out of 10.
You can also explain your choice in the comments section below. The results will be revealed once voting closes at the end of this month.
All of Rossi's bikes are shown in their 'official' liveries, special one-off colours are not included...more