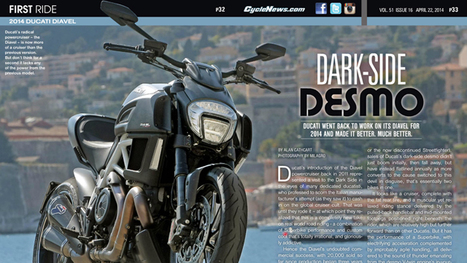 Ducati went back to work on its Diavel for 2014 and made it better. Much better.
Alan Cathcart | European Editor
Cathcart has ridden practically every road racer and streetbike ever built and written about them in Cycle News. They don't call him Sir Alan for nothing.
Ducati's introduction of the Diavel powercruiser back in 2011 represented a visit to the Dark Side in the eyes of many dedicated ducatisti, who professed to scorn the Italian manufacturer's attempt (as they saw it) to cash in on the global cruiser cult. That was until they rode it – at which point they realized that this is a completely new take on real world road riding - a combination of Superbike performance and custom cool that's totally irrational, and gloriously addictive.
For the rest click HERE: http://www.cyclenews.com/325/24292/Racing-Article/2014-Ducati-Diavel-First-Ride.aspx