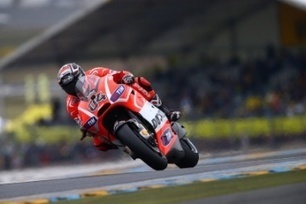 MotoGP News. "I was surprised to do a 1:33.6, as I didn't think I'd be able to do that, but it was a beautiful feeling" - Andrea Dovizioso..
Andrea Dovizioso claimed Ducati's first front row start of the 2013 MotoGP season with a brilliant final lap in qualifying at Le Mans.

The Italian jumped from seventh to third, 0.4s from pole, and will line-up alongside Marc Marquez andJorge Lorenzo on Sunday's grid.