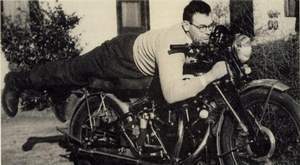 Big Sid" Biberman loved motorcycles, and he loved speed.
As a young man in the 1950s, Biberman would race his drag-style motorcycle, a methanol-fueled red Vincent Rapide nicknamed "The Rattler." On it, he collected 40 trophies and said he could reach speeds of 160 mph.
Later in life, Biberman gained renown as a gifted mechanic, or "wrench," specializing in Vincent motorcycles, a British model that went out of business in 1955. In the three years before he died Saturday, Biberman watched as his five-decades-old customized Vincents set eight speed records.
For the rest click HERE