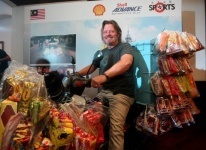 RIDING a Ducati into the press conference venue, Charley Boorman later sheepishly confessed to those in attendance that while waiting outside for his grand entrance wearing a jacket, he started sweating profusely. He forgot how warm Malaysia can be.
This travel adventurer, writer and sometimes-actor was in Kuala Lumpur to promote his six-part series called Freedom Riders Asia which celebrates the people and their motorcycles across Asia.
Boorman loves motorbikes and it's that love and his passion for travel that compelled him to do this series....